Women's Leadership Committee
Officers
Chair – Caroline Etsch
1st Vice Chair – Samantha Jany
2nd Vice Chair – Beth Pool
Secretary/Treasurer – Anna Trapani
Past Chair – Vilma Hockenbury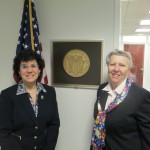 Vilma Hockenbury, Chair (right) and Caroline Etsch, 1st Vice Chair (left) visit Senator Menendez's office in Washington D.C. to discuss Ag Issues.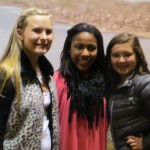 Emma Ponder, Madison Williams and Neely Berry from Mississippi participated in an Our Food Link activity as they visit the American Museum of History in Washington D.C.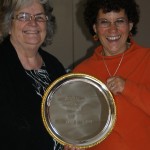 At the NJFB Women's Leadership Committee Annual Meeting, Caroline Etsch was named Farm Bureau Woman of the Year. She is pictured here (right), being presented the award by Sussex County member Joy Ricker (left).
Board Members
BURLINGTON COUNTY

Danyelle Kumpel
April Jones

CAPE MAY COUNTY
CUMBERLAND COUNTY

Gladys Earnest
Janet Mayhew

GLOUCESTER COUNTY
HUNTERDON COUNTY
MERCER COUNTY
MONMOUTH COUNTY
MORRIS COUNTY
SALEM COUNTY

Ginny Gantz
Melanie Richman

SUSSEX COUNTY
UNION COUNTY
MEMBER-AT-LARGE
HONORARY MEMBERS

Jo-an' Van Doren Beck
Joy Ricker
Marilyn Russo
Sally Sickler
Hermine Van Doren

The Farm Bureau Women's Committee spent time at the Hunterdon County Fair handing out samples of NJ's own "Just Peachy Salsa" and Food Check-Out materials. Shown in the picture are (l-r) Jo'An VanDoren Beck, Hermine VanDoren, Vilma Hockenbury and Caroline Etsch.

New Jersey Farm Bureau Women's Committee were well represented at the AFBF Women's Leadership conference in Las Vegas (April 2013)
Pictured are (front Row – l-r) Vilma Hockenbury, Caroline Etsch, Janet Mayhew, (2nd Row – l-r) Shirley Bond, Jane Brodhecker, Joy Ricker, Ginny Gantz, Beth Pool, (3rd Row l-r) Marlene DuBois, Carladean Kostenlnik; Gladys Earnest, and Samantha Jany.